About Us
Cody R. Firks established Preferred Interpreting Service in 2015 to help meet the demand for highly-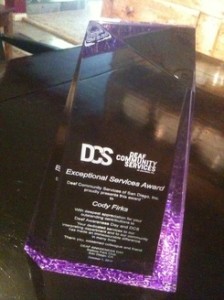 skilled and certified interpreters. His roots in the Deaf community started back in 1997 when he worked for the San Diego Unified School District Deaf and Hard of Hearing Program. Since then, he has gained experience with coordinating sign language interpreting services and other accommodations for the Deaf and Hard of Hearing through both nonprofit agencies and private companies. This unique experience has provided him with the tools to oversee quality services for customers and the clientele with whom they work. He continues to be visible in the Deaf community at events and other public forums, which helps Preferred Interpreting Service to stay at the forefront of the interpreting profession.
He is an associate member of the Registry of Interpreters for the Deaf (RID) and belongs to local chapters of the organization as well, such as San Diego County RID (SDCRID) and Southern California RID (SCRID). In 2011 he was presented with the Exceptional Services Award from Deaf Community Services of San Diego, Inc. which is proudly displayed on his office shelf to this day and is a testament to the high level of service you can expect to receive.

Quality of Our Service
According to the Registry of Interpreters for the Deaf (RID): "A code of professional conduct is a necessary component to any profession to maintain standards for the individuals within that profession to adhere. It brings about accountability, responsibility and trust to the individuals that the profession serves."
Preferred Interpreting Service supports the seven tenets of the Code of Professional Conduct established by RID by utilizing interpreters that adhere to the high level of professionalism set forth by these standards.
Please visit the following link for more information on RID's Code of Professional Conduct.
Access the full version of the NAD-RID Code of Professional Conduct.
Privacy Policy
Customer information is collected solely for the purpose of processing your service requests. This information is kept confidential and is not shared.